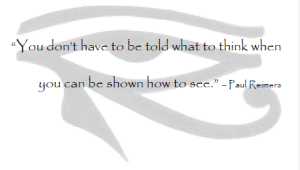 Would you love to be able to see and feel energy yet believe that this ability is only for psychics and healers?
In this class, I will share with you tools and processes that are powerful & useful on their own and teach them in a sequence that can help you see and feel energy. I use a process that bypasses the "Magellan Syndrome". The Magellan Syndrome is what prevents you from seeing something far removed from your experience. I share a special technique that "tricks" the mind into seeing the aura for the first time. After that first time, the Magellan Syndrome actually works for you rather than against you.
In this class, you can learn how to….
Ground and center yourself
Draw on an unlimited supply of energy
"Qualify" the energy (imprint it with a specific emotional feeling or quality and 

move it throughout the body)

Sense your own aura and chakras while balancing and clearing them

See and/ or feel the prana field around the body

See and/ or feel the aura around the body (includes colors related to the chakras)
This class draws on different traditions and sequenced in such a way that the student leaves the class with several tools and meditations that are useful and powerful on their own and when presented in the way that I do in this class all support each other and lead to the students being able to see/ feel the subtle energy around themselves and others.
For a schedule of upcoming classes, refer to the "Upcoming Classes and Workshops" page on my site.